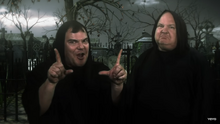 Rock is Dead is a song by Tenacious D which appears on their third album, Rize of the Fenix. On release of the album, Tenacious D and Sony Music Entertainment recruited Liam Lynch to produce a music video. The music video appears on the deluxe version of the album, as well as through the VEVO music streaming service.
Music Video
The video features Black and Gass intimating various music celebrities and dancing.
Trivia
The editing style of the video is very similar to that of other Liam Lynch projects.