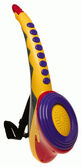 The Kawasaki Sax-a-Boom is a children's toy instrument which is frequently adopted by Jack Black at live Tenacious D concerts. It resembles a saxophone, and has a musical loop on each of it's eight buttons. It is now discontinued, but was manufactured in 1998 by DSI Toys Inc and Shoot the Moon II LLC.
Despite being branded as "Kawasaki", the toy has nothing to do with the Kawasaki Motors Corp. The reason it is branded under the Kawasaki name is because DSI Toys and Shoot the Moon held the official license to produce toy vehicles with Kawasaki branding on it, and therefore extended this over their entire line of toys.
Ad blocker interference detected!
Wikia is a free-to-use site that makes money from advertising. We have a modified experience for viewers using ad blockers

Wikia is not accessible if you've made further modifications. Remove the custom ad blocker rule(s) and the page will load as expected.